2020
Happy New Fear! THE DEVIL is here. Out February 2020.
2019
A tense and clever read…says the Weekend Sport of THE EXTREMIST.
2018
I'm very happy to be appearing at THE EDINBURGH INTERNATIONAL BOOK FESTIVAL on Friday 24th August with fellow author Charles Cumming. I'm told that we'll be discussing 'impossible situations' as they relate to our books The Man Between and The Extremist.  See you there!
2017
Some great reviews for THE HIT:
Dalbuono has an intimate knowledge and understanding of Italy, its criminal underbelly and the often twisted and corrupted state that functions on the back of its relationship with the Mafia … A fresh voice in a well-trodden field … This is Euro-noir of the highest order.' New Books
'A racy thriller.' TLS
2016
November 2016
Reading, Writing and Riesling says of THE HIT:
The importance of family – in the literal and figurative (criminal) definition of the word is cleverly explored as secrets are slowly revealed. Once again Dalbuono takes the reader on an armchair tour of Italy – the locations and culture real and colourful. Scamarcio is an empathetic character; flawed, haunted by the past and struggling to make sense of the present.
Lies and more lies, manipulation and manoeuvring, this complex plot delivers a not so happy ending…and the promise of more moral and ethical dilemmas to come. A great read.
Just a Guy who Likes to Read:
The Hit reads like a bare knuckles Mafioso story and police procedural in one, equally at home amongst Dennis Lehane (Joe Coughlin series) and Michael Connelly (Harry Bosch Series); top notch story telling from beginning to end, the best Scamarcio novel yet.
Pile by the Bed:
Leone Scarmacio is a great crime fiction lead. Determined to walk a virtuous path in a corrupt society he is also endlessly challenged by his past. In this book that past comes even closer as he learns some truths surrounding his father's death, the event that triggered his decision to join the police.
In The Hit, Nadia Dalbuono also manages to deliver a clever, well constructed police procedural. Scarmacio, among other things, is a good detective, but some cases are tougher than others to solve and over time the political pressure starts to mount. The plot is well placed and the twists are carefully delivered. But for Leone Scarmacio, still contending his ongoing connection with organised crime, solving the case can only provide one form of satisfaction. Resolving his mafia connections could see this series running for quite a while yet.
October 2016
THE HIT (Scamarcio 3)  is published in Australia, New Zealand and the UK.
September 2016
Had a great time at Noirwich on the 'away' panel with Barry Forshaw, Anja de Jager and Don Bartlett!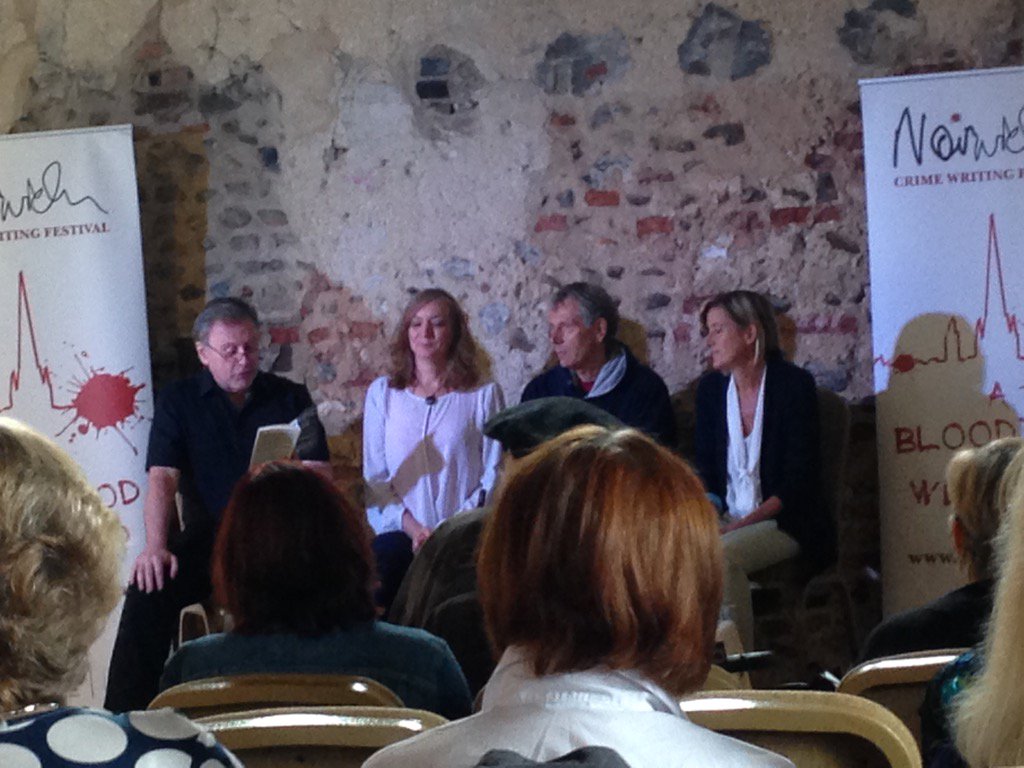 April 2016
THE AMERICAN makes the longlist for the CWA Ian Flemming Steel Dagger!
The Sun says of THE AMERICAN ' a rollercoaster ride – unsettling but compelling.'
January 2016
THE AMERICAN is chosen as crime pick of the month by Waterstones, Cheltenham.
It has also received some great reviews from the crime fiction bloggers.
Raven Crime Reads says: 'Having waxed lyrical about Dalbuono's debut The Few (which also earned a well deserved place in my Top 5 of 2014), I approached The American with an equal sense of excited anticipation and hesitation- could it honestly be the equal of the first one? I can, however, confidently say with its scope, intelligence, and assured writing that it's even better. What Dalbuono exhibits in this second book is a further growth in her writing and storytelling that is totally mesmerising. Not only does she have the firm foundation of a mercurial, interesting and multi-faceted central detective who owns every scene he inhabits, but there is an intelligence to her plotting and central storyline that keeps the reader hooked throughout.'
https://ravencrimereads.wordpress.com/2016/01/10/blog-tour-nadia-dalbuono-the-american-review/
The Crime Novel Reader says: 'It takes a certain level of chutzpah to tackle big global themes in a police procedural, but an equal if not greater measure of panache to pull off. Luckily for readers, Nadia Dalbuono has both in spades and The American, a sequel to her brilliant debut The Few, is a novel that amply demonstrates the author's not inconsiderable talents.'
http://thecrimenovelreader.blogspot.co.uk/
Book Lover Book Reviews says: 'I'd not read Nadia Dalbuono's debut thriller The Few, but have just been swept away by her latest instalment in the Leone Scamarcio Thriller Series, The American. What first particularly attracted me to this novel was the mystery's complexity evident just from the publisher synopsis. Even so, I'd still underestimated both the intricacy and sheer scale of the web of lies and deceit Dalbuono orchestrates in The American. I'll admit to at first feeling a little overwhelmed trying to fully understand the myriad players and nature of their alliances. But it was well-worth the initial concentration because it wasn't long before everything just seemed to click. From that point on, this book rarely left my side! This story's many settings come alive in Dalbuono's hands – so atmospheric, the ghosts of those who had gone there before lurking in the shadows. Her characters, and the emotions they display, are gritty and realistic. The world they (and we all) live in is not a fairytale where right and wrong is as black and white as we'd often like it to be. The American is a compelling exploration of this theme. Impressive also is the extent to which Dalbuono blurs the line between historical fact and fiction. It certainly broadened my thinking on a few matters.
The American is an intriguing crime puzzle, international adventure thriller and a moving human drama. Highly recommended.
Just A Guy that Likes to Read says: 'THE AMERICAN is a crime mystery swathed in unpredictability. Author Nadia Dalbuono never lets the reader get too comfortable as motives, corruption, and lies move like the undercurrents of a murky river camouflaging the truth.
I love reading international crime fiction and THE AMERICAN provides a nice avenue for adventure into other parts of the world; a mechanism to explore, if only from a birds eye view the procedural aspects which intertwine fact with fiction to formulate a complex narrative that is as readable as it is believable across different continents.
THE AMERICAN is a well paced book that outshines its predecessor, THE FEW, and has an explosive ending that is sure to send ripples throughout the later books in the series. I really liked this one. '
Shiny New Books/Crimeworm says: 'Plotted as tight a drum, and with various other smaller threads to the novel, Nadia Dalbuono looks very much like being the name to watch when it comes to political intrigue. I'll be very surprised if I read a more engrossing or cleverly written book this year.'
2015
February 2015
The Sun newspaper says of THE FEW: 'Gripping….you won't be able to put down this unsettling tale.'
April 2015
Crimesquad.com describes THE FEW as 'an exciting and compelling read.'
http://www.crimesquad.com/reviews.asp?year=2015&month=4
August 2015
THE AMERICAN is published in Australia. Robert Goodman of Australian Crime Fiction writes: 'The American is definitely not the last we will be seeing of Leone Scarmacio and most readers will be hanging on to see what happens next.'
http://www.austcrimefiction.org/review/review-american-nadia-dalbuono
2014
15th September 2014
The Few is pick of the week in The Age and The Sydney Morning Herald.
http://www.theage.com.au/entertainment/books/in-short-fiction–nonfiction-reviews-20140908-10cwve.html
16th September 2014
The Few is #1 in Kindle Oz's International Mystery & Crime category and #3 in Mystery, Thriller & Suspense.
A big thankyou to  the staff of Mary Ryan's in Noosa for making The Few staff pick!
Thanks also to the Readings Book Chain for selecting The Few as Crime Book of the Month.
27th September 2014
The Weekend Herald, NZ, says:
'Really good debut copper novel…the plot is murky and messy, the pace is fast and the characters well drawn.'
5th October 2014
Ahead of the UK launch in November, Scribe UK are offering the chance to win an advance copy of The Few. Check out @ScribeUKPR
3rd November 2014
Maxim Jakubowski on Lovereadinguk asks: 'Has Donna Leon met her match?'
18th November 2014
The Killing Time Crime says: 'The Few is an enjoyable, well-written mystery and Scamarcio has a lot of scope for further development.'
We Love this Book says: 'Powerful, tightly plotted and with chilling echoes of real life events, The Few is an emotive and exhilarating read, and Scamarcio a character who could quickly become another cult detective.'
26th November 2014
Raven Crime Reads awards the Few 5 Stars and names it Book of the Month.
'Read as part of the New Talent November feature at Crime Fiction Lover this debut novel really struck a chord with me, and I have now hand-sold all my copies at the bookstore where I work. Yes- it's that good… Dalbuono has constructed a compelling plot, that will keep you guessing until the end. Add to that her police protagonist, the charming and determined  Detective Leone Scamarcio, who has seemingly turned his back on his Mafia connections, and what Dalbuono has achieved is a thoroughly accomplished debut crime novel that will leave you itching for another in the series. A truly 5 star read and perfect for fans of top notch Euro crime thrillers.'
December 2014
Raven Crime names The Few as one of her top 5 books of 2014 for Crime Fiction Lover.
Waterstones, Cheltenham names The Few their crime debut of 2014.